The only clock in our living room is on the DVD player and it is not easily read from all angles. Otherwise I have to crane my neck to look into the kitchen via the pass-through to the stove clock. We need a clock above the TV not only to know the time but also to fill a large blank space on the wall. I plan to make one out of repurposed materials (of course!) but in the meantime I did a little window shopping on
Etsy for inspiration.
Steven Shaver Designs
is full of clocks, cuff links and belt buckles all made from recycled car parts and license plates. The Mercedes Benz desk clock is made from engine parts and would be a unique gift for the car enthusiast.
This rustic clock by
Honey's Treasures
made from recycled railroad spikes is just one of may repurposed items available in their shop. They also make furniture, lamps and tin figures from recycled materials.
The upcycled movie reel clock is not the only clock made by
lahaine
. Check out the
Pool Rack Clock
and the
Vintage Chalkboard Clock
as well as other repurposed items and found/altered art.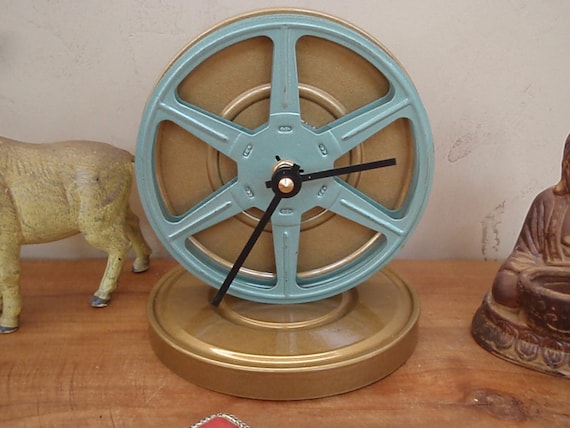 I love that the clocks made by
vinylclockwork
are more than just a record with a clock movement added. The hand cut numbers make these completely unique.
Red Ark Fabrications
made this mantle clock from a found cardboard box and a movement from an unwanted wall clock.